Outsider Luke Hodgetts Triumphant at the 2022 Selborne Salver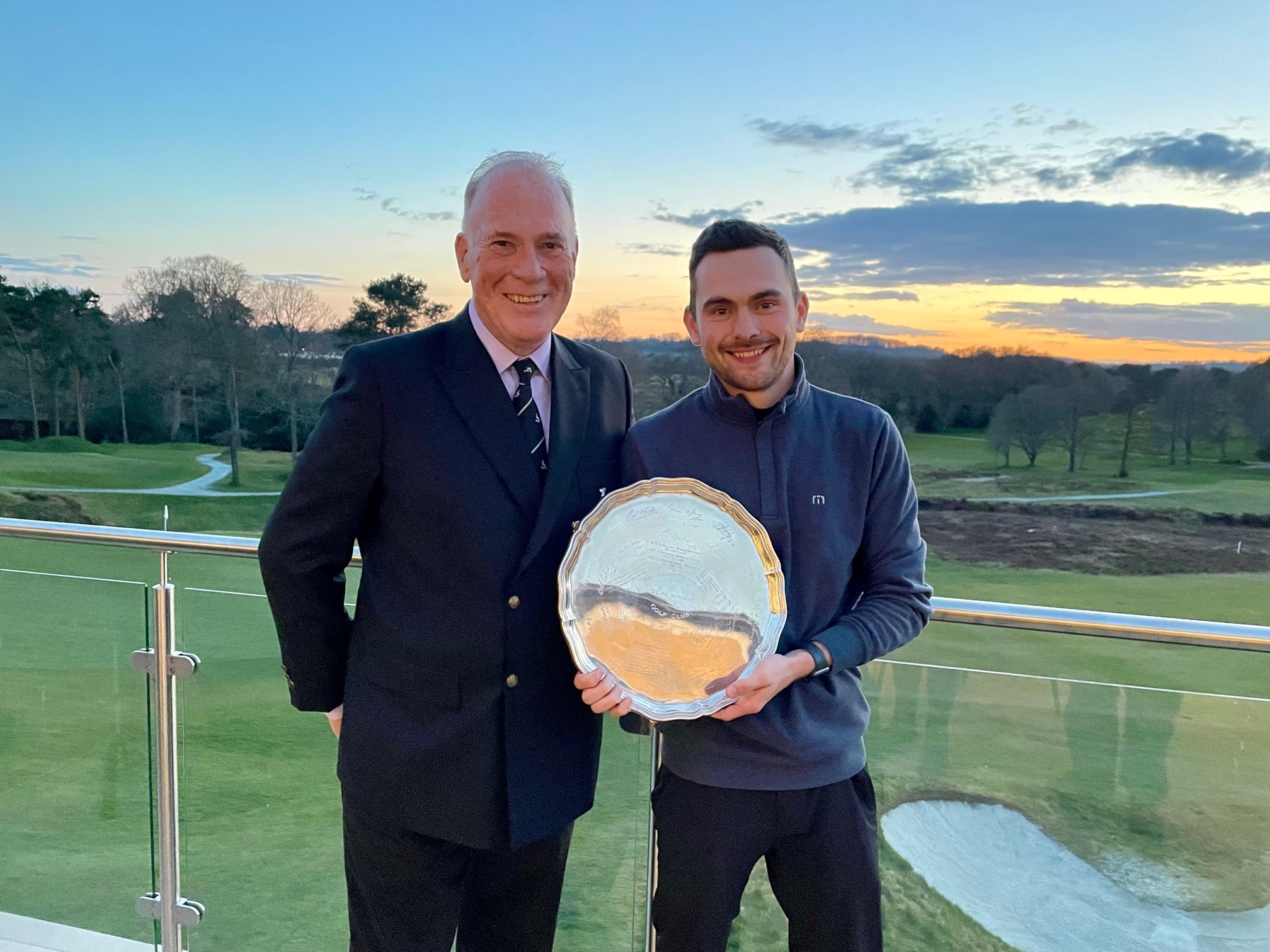 Luke Hodgetts romped through the field at Blackmoor Golf Club on Saturday (April 9) to win the 2022 Selborne Salver. An outsider with a +2 handicap among a field of +5 and +4 handicappers, Luke added an afternoon 67 to his morning 70 to win by one stroke.
A member of Hockley Golf Club, in Winchester, Hodgetts, who is aged 26 and from Chandler's Ford, has already been crowned twice champion of his own club, but has yet to register on the county's radar, a situation which should soon be remedied for the Callaway UK employee.
It was a cold start on Saturday and Luke's morning round began badly with him shedding shots on his opening holes, the 10th and 11th. But fours on the two par-fives helped him secure a round of 70, thanks to some expert scrambling and a couple of lengthy putts. After lunch he collected four birdies and was bogey-free until the 17th, which he three-putted.
A big drive down the last left him just 117 yards from the pin, but his pitch backed up off the green and the resultant chip came up just short and rolled right back to him. He averted a major crisis by putting his next shot to within a foot of the hole, to end his afternoon round on 67, and a total of 137, one under par. In the first group off the 10th tee at 8 a.m., Luke had nearly two hours to ruminate over that flaky finish until he was crowned 2022 winner.
'I had a really good day. The greens were amazing, and I didn't make too many mistakes. I holed some good putts, including a 40-footer, which was a bonus,' said the new champion, the first since 2019 courtesy of two Coronavirus cancellations.
One shot adrift was Colin Roope (Rowlands Castle), a former Blackmoor member and recent county captain, who followed a morning 68 with a resolute 70. He holed a string of clutch putts and made some masterly recoveries, but just ran out of steam. Third-placed Jack Brooks (The Mere) followed his best-of-morning 67 with a 71 and would have made it a play-off if his ticklish 30-incher at the last had found the cup.
All on 140 were Will Marshall (Heworth, Durham), on 69,71, matched by Freddie McArthur (Ullesthorpe, Leics) and James Freeman (Stoneham), with 68, 72. Charlie Thornton (Fulford, York), with 70,71 and Alfie Forisky (Maidenhead), 69, 72, were locked on 141, while Robert Wheeler (North Hants), on 70, 72 and Reis Suart, the 17-year-old +3 man from Welwyn Garden City, on 68, 74, were a further shot back. Tom Osborne (Lindrick, Yorks) and Harry Malin (Bognor Regis), both with 143, completed the top dozen.
Kris Kim, the 14-year-old prodigy from Walton Heath, had the worst start, losing his opening drive and his provisional to card an eight. But he dug in and still broke 80 and then had a matching 78 after lunch, an object lesson to the half-dozen or so who upped sticks and headed for home after disappointing morning rounds.
Toby Burden (Hayling), one of the favourites, drove beautifully all day, but could not buy a putt on his way to a 72 and a 74. Hockley's Paul Telfer had a brace of 75s, while former champion Mark Burgess (Blackmoor) could do no better than 78, 74. William Green (Lee-on-the-Solent) had a mare of a morning with 82 but redeemed himself after the break with a fine 72.